Little Chicago
Available Now
On DVD!
Get it at AMAZON


Adrian Paul (The Highlander) in Little Chicago.
---
Little Chicago

YORK ENTERTAINMENT presents
a NIMBUS 9 PRODUCTION
in association with CRIMSON WOLF PRODUCTIONS
SCOTT MILES EARL C. POITIER CHRIS COPPOLA
and ADRIAN PAUL in
"LITTLE CHICAGO"
SARAH VICCELLIO JOSH SMITH
DENA M. THOMAS JOHN S. RUSHTON
written by SCOTT MILES music by DAVID AARON
editor FRAN CLABAUGH production designer MATT SKALA
director of photography J. GRIFFIN RICKER
executive producer FRANCIS J. BLANCHFIELD, JR.
produced by
DENA M. THOMAS TIM COLLARE and SCOTT MILES
directed by RICHARD CLABAUGH

Available from and Distributed by:
York Entertainment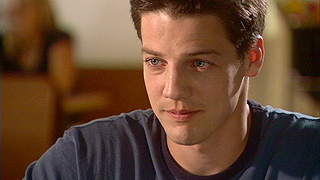 The town of Gastonia, North Carolina has a nickname, "Little Chicago," that comes from a shared history of crime and violence as well as an identical per capita murder rate. Writer, producer and star Scott Miles (right) of October Sky grew up in Gastonia and turned his fascination with the town and its colorful history into a compelling, present day saga full of off-beat, quirky characters. Set against a gritty backdrop of violence, action and drama Little Chicago is a sometimes humorous, sometimes heartbreaking tale that keeps you fully engaged as the characters struggle to find their place in, or away from, the town known as "Little Chicago."
The cast of the film includes veterans such as Scott Miles (October Sky), Earl Poitier (Remember the Titans, Drumline), Chris Coppola (Simone and Polar Express with Tom Hanks) and Adrian Paul, most well known as the Highlander from the TV series and recent feature films.
The film also showcases the talents of several new, rising stars, making their motion picture debut with this production.
Little Chicago was shot entirely in the state of North Carolina.
Cal and Andre (Scott Miles and Earl Poitier) conduct
a little business with Daisy (Dena Thomas).
Chris Coppola plays "Junior," a man who
Andre owes "a lot, alot," of money to..
The kick-ass, Boss302 Mustang that
Andre (Earl Poitier) drives in "Little Chicago."
Cal Rowan (Scott Miles) discovers a
fun time can quickly turn dangerous.
Daisy (Dena M. Thomas) takes advantage of a quiet moment
alone to work her charms on Cal.
(updated - January 2010)